Beth Zheng interviews Hannah Foley, the Head of Corporate & Projects Recruitment and Branding & Social Media at Kissoon Carr. Hannah gives an insight into how students and solicitors alike can utilise LinkedIn to strengthen their connections. Hannah explains how the roles of legal recruiters are changing in light of Covid-19 and how Kissoon Carr differentiates itself from other legal recruitment firms through their personal approach.
Hi Hannah, thanks for your time today. Can you explain how you became a legal recruitment consultant and whether legal recruitment was something you had considered at University?
I had always wanted to be a lawyer ever since I can remember, and it was during sixth form that I found out about an experience at Eversheds Sutherland. After my teacher refused to refer me, I wrote to the firm and managed to obtain a place on their Unlocked Academy without a referral. After participating in the Eversheds Unlocked Academy, I was awarded the Scott Wagland Bursary, covering my tuition fees. All throughout University, I knew I wanted to become a lawyer, continuing to attend open days and experiences at various firms. I even went straight from Benidorm following a sports social, to an open day at Slaughter and May!
Following my Vacation Scheme at Eversheds, I was unsuccessful in obtaining a Training Contract and was hugely demotivated. Although I reached the final interview stages at other firms, all throughout this, I remained active and had a good profile on LinkedIn. One day, I got a message from Robert Hanna, Co-Founder of the boutique legal recruitment firm Kissoon Carr, asking whether I had ever considered a career in Legal Recruitment. Following more conversations, I travelled to London and met Rob. Now, fast forward, Rob is my Managing Director and I have been at Kissoon Carr ever since. The power of LinkedIn is not to be undermined; it is very influential and ultimately helped me get this role!
What does your role entail and how does legal recruitment differ from graduate recruitment?
Legal recruitment is a fantastic opportunity to work with associates and partners all day long meaning it is more social than law in some aspects. I really value being able to speak to partners who view me as a trusted advisor. At Kissoon Carr, we have verticals where we specialise in particular practice areas. For example, I specialise in the specific areas of Corporate and Projects. Therefore, I am able to become a real subject expert within these areas. Having this specialism means I learn so much quicker and have a strong understanding of the documents that my clients work on and the varied terminology across firms.
All types of recruitment are very different. In legal recruitment, I essentially take one lawyer and find them a job at a different firm. Whereas Graduate recruitment focuses more on students and on one firm. The reason I like legal recruitment is that I am able to use my law degree when talking to partners and associates, and I can still immerse myself in the law. I also get to understand firms really thoroughly, giving me insights I would never have known if I were applying. For example, the corporate practice area has been negatively impacted as a result of Covid-19. This year, many firms won't have corporate seats for trainees to qualify into in London. Therefore, trainees are asking what they can do for their careers and what practice areas they can qualify into which would allow a transition back to corporate in the future.
How did you find the transition from graduate to working?
I believe one of the most important aspects is to have a great presence on LinkedIn. The hardest part for me was to learn about LinkedIn as it is a crucial part of the job; not being afraid to reach out and add people. Another thing is adjusting to the hours. Although our typical day is around 8am-7pm as legal recruiters, we must work around our clients. This job revolves around the idea of you get what you put into it. Therefore, if a client is at the office till 10pm and calls me at 10pm, I must be ready to work to secure a deal. London life is fast-paced and there is nothing to prepare you for this. Therefore, the main thing is to branch out and build connections. The earlier this is done, the better.
What are the necessary skills for legal recruitment?
Persuasion is key. Most of this job is objection handling where we turn a 'no' into a 'yes'. It is initially difficult to do this as naturally we tend to back off when people say 'no'. Therefore, it is important to have self-confidence and be persuasive. A key skill of a good recruiter is to build good rapport. Have a good relationship with your clients and associates is really powerful and makes you stick out in any field. Finding pinpoints with clients and new connections helps to consolidate your position and build up relationships which is key. It is important to be driven, have ambition and be resilient in this job. There will always be people who say no. I cannot stress how important LinkedIn is; everyone uses it and getting to grips with  this early will make your life easier.
How does the firm attract clients?
Our advice is currently free for lawyers. Our job is to speak to our law firm clients on a daily basis and understand what those firms are doing. When the firms want to expand their team, they will come to us to find a person who fits their team. Therefore, we have strong connections with both individual lawyers and client firms. A large part of the role is to vet candidates and ensure they are the right fit for the role through finding out their specific experiences, but also ensure the firm is what they are personally looking for. This includes learning about a candidate's motivations, previous experience, current salary, the size of their current team to name but a few factors. Sometimes firms instruct only one recruiter, but others may instruct numerous. Therefore, it is only the legal recruitment firm who puts forward the final chosen candidate that is paid.
How does Kissoon Carr differentiate itself from other legal recruiters?
At Kissoon Carr, we pride ourselves on the fact we do more than legal recruitment. We have our own Legally Speaking Podcast where we have had a variety of influential people there and really helps us add value to the legal sector. At the end of the day, we are a firm based on relationships and always seek to help people even after they have secured jobs. We want to help our clients and give them something extra. We aim to really look after our candidates and ensure they are happy at their firms where they have been placed, improving and maintaining client retention rates. We have held events including at the Supreme Court with the London Young Lawyers Group and are passionate about giving back, helping clients with different solutions. We are not just about achieving placements but have various angles to engage with people, from our podcast to society affiliations, including the Society of Asian Lawyers. We are truly ingrained into the sector and this allows us to deliver a more personal service. Each Kissoon Carr consultant has a focused area of law to recruit for and this ensures we do not make mistakes, understanding the sector more thoroughly than others.
How has legal recruitment and your role changed in light of Covid-19?
Legal recruiters have been challenged to think differently; people are realising you must add value and provide solutions to people's problems as we do not know how the world will change over time. Having strong candidate relationships is becoming more important and marketing is becoming part of the job. For recruiters and lawyers alike, it is incredibly important to have a voice online, especially  through LinkedIn! At Kissoon Carr, we put out a lot of video content with our in-house video editor Oliver Bodmer. We have recognised this change and appreciate the changing forms of media, which shows more humanity. Many of our competitors have taken a huge hit and the industry has no doubt been impacted with a massive slowdown. Therefore, we have to think about building new talent solutions, for example, through further consulting and mentoring.
Due to Covid-19, my recruitment areas have been quieter. Therefore, I have focused more on the podcast production and branding side of things. As the Head of Social Media and Branding, The Legally Speaking podcast has been a great way to add value to the sector but also our brand. The Podcast is now really successful, listened in over 74 countries and 633 cities. We also have an essay competition going on which is another way for us to hear from students, as well as our own Instagram page, which is gradually expanding! Kissoon Carr is a great place for me to get involved with many different projects and this is very important to me!
What would your advice be for someone who is considering legal recruiting as a career?
LinkedIn is key! Regardless of industry, build your profile up and add people. Don't be afraid to message people if you are genuinely interested in what they do. Use social media for the right reasons and build up relationships.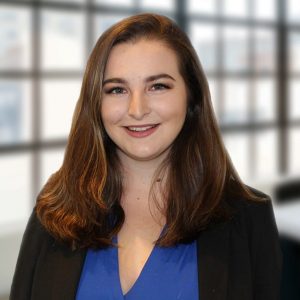 You can read more about Kissoon Carr on Instagram @kissoon_carr or visit https://www.kissooncarr.com/.
Or on the Kissoon Carr LinkedIn page: https://www.linkedin.com/company/kissoon-carr/
You can connect with Hannah on LinkedIn at https://www.linkedin.com/in/hannahmfoley/ or using her details on https://www.kissooncarr.com/hannah-foley/
Article by Beth Zheng