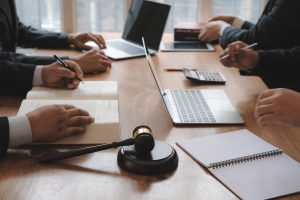 As more companies have discovered the importance of technology for remote work, a number of them are now realizing that utilizing technology in a variety of ways is an essential part of their operations. Some of these ways include remote medical transcription, remote accounting, and remote legal work. By using computers to facilitate work, many companies like The Dominguez Firm are now able to save time and money by reducing the amount of human interaction required in most cases.
Here are three tips in utilizing technology for remote legal work:
Set Up A Good Home Office
In today's working society, computers have become an essential part of our daily lives. They make many work processes efficient and accurate. When it comes to remote work, acquiring a laptop with good performance is a must. It's incredibly challenging to be successful with a remote job if you're working with inferior equipment. If you're unsure of which laptop is best for you, there are several technology-based stores with specialist staff who can help you make the right decision.
In many cases, computer technology is often used in conjunction with traditional forms of remote legal work, such as the use of computers, telephones, and other similar devices. The most commonly utilized technology is a telephonic device, which allows for the transfer of information between attorneys and their clients. Other types of technology include teleconferencing programs and teleconferencing software. While there are many different types of communication methods, these types of technologies are actually needed for a successful law firm or for the operation of any other type of business.
Lawyers are starting to think about outsourcing their legal services to people who use computers on a regular basis. The Internet has made it possible to do an incredible amount of work in such a short amount of time with little or no cost to the attorney. If you're working remotely and looking for a laptop with exceptional performance capabilities and understanding the web tools available to you, you may also want to find yourself a pair of noise-canceling headphones. These will be beneficial in limiting the distractions around you. Also, they seem to have better sound productivity, which will make a number of things easier for you to hear, whether it's a client call or a conference call.
Also, having a good and stable Internet connection is always crucial to ensure that information is conveyed correctly between the lawyer and the client.
Use Software Such As E-Dox
Using online legal document submission (E-Dox) software is one way to utilize technology for remote legal work. It's where documents can be submitted online and include e-doxed documents in addition to documents from e-zines and magazines.
Using internet-based services can also help you deliver legal advice without facing the cost of having a lawyer present at your service. What makes E-Dox so important when it comes to remote legal work is quite simple: it speeds up the transfer of vital documents while drastically lowering the chances of fraud. As you can imagine, this is quite beneficial as you can have an important document sent to you in a matter of minutes rather than having to go through the tedious process of having it mailed or transferred by hand, which will take more time.
Take Advantage Of Gadgets And Your Online Presence
With the advent of new technology and software (such as contract collaboration software to redline legal contracts), it's now possible for an individual to complete legal work remotely. In many cases, this is much easier and cheaper than having an actual person come into the office to do work. Many lawyers find that having a tablet with an eraser pen makes working in the field much easier. You no longer need to print out your documents as you did before, and can just mark them up exactly the way you would if you were physically in the office.
There are other benefits to working with a tablet in the legal workspace, such as being able to take down notes and draw out diagrams or charts on the screen at the same time. As mentioned earlier, many legal professionals find that working with the help of a tablet allows them to easily complete legal work without having to actually be in the office. This is especially important for those who travel or have many different clients all around the world. Some even find that their work gets better because they don't need to worry about being distracted by distractions in the office.
With the development of technology and the near-constant use of the Internet, it is also important to have developed an online presence through social media platforms and your own website. With the ease of utilizing a tablet or computer from home, it's incredibly easy to create your own website that portrays everything that makes your firm or services unique compared to other individuals. It's important to consider having that online presence because that's how people are researching which legal firm they will hire for their case.
Conclusion
Whether it's you or someone you know who's interested in remote legal work, or the company in question is moving in this direction, many benefits will follow this new approach. If you're unsure of what to do or how to approach this new dynamic, there are a number of tips for working at home available online that can aid in the process. It will take time to adjust as working from home is very different from an office, but it could be fun and yield productive results in the long run.