When your marriage is not going well, which always end in unhappiness and sometimes even violence, it's best to look for a divorce lawyer to keep both parties protected. While there are a lot of family lawyers found in your area, it's crucial to know the important things you need to consider when hiring a divorce lawyer and the best time to seek legal help.
In this post, you'll learn the best time to look for a divorce lawyer who serves as your reference to make a final sound decision. 
You Feel You Need a Mediator
If misunderstandings or talking frequently leads to heated arguments and violence, you need a mediator or someone who can facilitate excellent communication between you and your spouse. That's when divorce mediation comes to play.

A divorce attorney serves as a mediator for married couples, helping them seek better communication strategies and legal options. In divorce mediation, there's greater privacy than public litigation, which means you have more control in your divorce case.
Check out the advantages of considering divorce mediation:
Because you and your ex-spouse won't be fighting in court, divorce mediation will lead to a better long-term relationship.

Divorce proceedings are generally more peaceful. This means it'll be easier for children to accept the reality that their parents need to go separate ways. 

Divorce mediation reduces legal expenses and expedites an agreement.
Cheating and Other Intolerable Situations

Intolerable situations may prompt a spouse to consider filing a divorce. Many married couples fall apart because one party cheats, resulting in feelings of anger, sadness, and vengeance. When you're in this situation, it can be difficult to focus on the legal aspects of infidelity.
It's important to know your legal rights before taking any action. So, you need a legal expert to help you go through this process and find legal options for you. So, how can a divorce lawyer help you?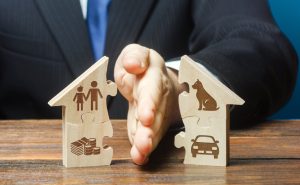 When you're considering to end your marriage because of intolerable situations, check out these sample questions you can ask a divorce lawyer:
What claims could I have against my spouse I caught cheating on me?

A divorce lawyer can help you determine spousal support or alimony, which plays an important role in adultery.
Infidelity can bar one party from claiming alimony. You can request a divorce for an adultery allegation less than the set waiting period.
How soon can I file a divorce due to domestic violence?  

Domestic violence

is usually a common unreported crime, which is a significant problem in the United Kingdom. It accounts for 16 percent of all violent crimes, wherein 30 percent of women and 16.3 percent of men suffer from domestic abuse.
For a violent spouse, you must take immediate action by calling the police and consider a divorce. Talk to a lawyer before leaving the house as much as you can because it may affect alimony. You can file criminal charges in addition to a divorce case.
You Want to Save Your Marriage

There are married couples who seek a divorce lawyer because they also want to save their marriage. It's a great way to allow a legal expert to educate both parties about the legal implications of their decision.

A divorce lawyer can help married couples identify and work on different marital issues, such as financial concerns, which is often the cause of marital disputes. Lawyers can eliminate the distrust and conflict that has stained the marriage, helping couples move forward.
Here's how a divorce lawyer can help save your marriage:
Acts as a Legal Advocate:

Considering a divorce can affect property ownership rights, child custody, and other family matters. A divorce lawyer will shed clarification on common legal conflicts faced by married couples. 

Help Settle Disputes:

While a marriage counselor provides counseling and therapy to improve a couple's communication, a lawyer assists in settling marital disputes by mediating issues to help parties reach a mutual agreement. 
Lawyers are highly knowledgeable and trained financial professionals, capable of assisting clients to deal with financial matters and legal strategies and structures.
Conclusion
It's important to look for a divorce lawyer as soon as you first think of it. In this way, you can find better ways to resolve your marital conflicts and realize the legal implications of entering into a divorce case. 
A divorce lawyer acts as a legal advocate and mediator, helping couples find better alternatives to divorce or taking public litigation if it's the best course of action. If there's violence and intolerable situations, a divorce lawyer can help protect your rights and best interests by guiding you all the way.