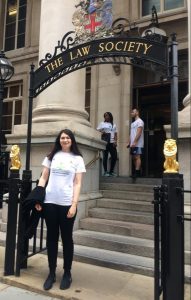 Interview and article by Zainab Hassan
Raluca Rosu is a Compliance Officer at Bird & Bird. Having graduated from her LLB degree with distinction, she shares with us an insight into working at an international firm and her reflections on her career so far, which includes experiences at The Law Society and volunteering at the Citizens Advice Bureau.
 Hi Raluca, please share with us where you currently work and what your role entails?
I am a Compliance Officer at the international law firm, Bird & Bird. I joined their Risk & Compliance team at the beginning of last year. My role is very varied and entails conducting conflict checks, anti-money laundering checks, reviewing and creating risk assessments, on-going monitoring, dealing with sanctions, escalations and generally acting in accordance with current regulatory requirements such as the new SRA rules which came into effect on 25 November 2019.
My typical day at work involves a mixture of the aforementioned tasks although priorities change from day to day. Working at Bird & Bird is exactly what you would imagine at an international firm with a very diverse environment. I liaise with people from different countries on a daily basis and this is what keeps things interesting. There are lots of events and seminars at the firm focusing on diversity and inclusion, volunteering and charitable events that employees can take part in, as well as courses aimed to improve knowledge and performance of employees. Because I wanted to develop a more thorough understanding of financial crime, I chose to do an International Compliance Association course sponsored by the firm and received a certificate in anti-money laundering with merit.
What did you do before this role?
Since graduating from my Law degree in 2015, I have been volunteering and working in various legal firms. Prior to Bird & Bird, I worked at The Law Society in their Accreditations department, helping national law firms achieve recognised quality standards such as Lexcel, Conveyancing Quality Scheme, and Wills and Inheritance Quality Scheme. Working at The Law Society proved an important stepping stone in my career as it exposed me to an international environment for the first time and it gave me access to important legal material and learning and networking events. The Law Society provides various career opportunities, from learning-at-work workshops, targeted networking events, to yearly international internships/secondments in their Brussels office dedicated to future and current trainee solicitors who can use this valuable experience as a seat in their traineeship – worth keeping an eye out on this – applications close in November every year!
Before moving to The Law Society, I worked as a paralegal in a west London law firm, Berlad Graham LLP, which is where I learned most of my legal skills under the close guidance of the two partners. Prior to being a paralegal, I mainly volunteered and interned with various organisations, the most important being Citizens Advice Bureau where I supported caseworkers. I interviewed new clients and I provided general administrative support. All of these experiences tied together provided a good foundation for my legal career, which I continue to develop.
I understand that you studied Law and graduated with a Distinction. Do you think your degree helps you in your current role?
Absolutely. I strongly believe that anyone seeking to work in legal services would benefit from studying Law at university, although there are alternative routes into the legal profession through the Graduate Diploma in Law and soon the Solicitors Qualifying Exam. Studying for my Law degree was challenging but it definitely changed my perspectives. While I was a Law student, I realised that I did not want to qualify as a solicitor or barrister and, at one point, I was considering becoming a Law professor. After graduation, I had a bit of a break and then I thought I'd give business support in legal services a try just to get my foot in the door and I've been at it ever since. I think everyone's experience is different and it is perfectly normal for law students and graduates to try out different roles or industries before setting their mind on a definite career. So if you are feeling unsure about what to do with your law degree, do not worry about it. Law degrees can open many doors in many sectors – legal services, conveyancing, business, compliance, finance etc. Good credentials and work experience are of utmost importance at every stage of your career, be it legal or non-legal.
With the changes taking place in the legal sphere and competition increasing, what do you think law firms can do to increase retention rates?
This is what I am trying to find out as well! Having changed 3 legal jobs in 3 years, I tend to believe legal organisations are not very good at staff retention – and I am not the only one. In London especially, there is a culture of, as one of my colleagues put it, 'musical chairs' in the sense that young talented people essentially move from law firm to law firm enticed by better opportunities, better pay etc. I think law firms should do more to increase retention rates by being honest in interviews instead of sugar-coating the roles they offer, providing flexible work opportunities, getting rid of the overtime culture, which is widespread in the legal sector, as well as providing a safe environment for career progression.
In your opinion, what character traits/skills do you need to succeed in the legal sector?
Dedication, organisation and adaptation. New SRA rules, new post-Brexit legislation, business trends, technologies are all disrupting the legal profession as it is traditionally known so lawyers must be prepared to adapt to ever changing legal environments. The reality of the legal sector is a harsh one and keeping up-to-date is essential. New generation lawyers are now getting trained in industries which were not discussed a few years ago – artificial intelligence, cannabis, Brexit, coding, disruptive technologies etc. The legal industry is not an easy one, with competition increasing every year.  Therefore, in order to succeed in the legal sector, I believe one must be prepared not only to adapt, but also to think in a futuristic manner.
Have you got any advice for young women entering the legal sector?
 It is now easier than ever for women to be successful in the legal sector. In the last few years, more than 60% of new solicitors each year have been women. Women lawyers outnumber men in the UK and this trend is on the rise. There are now plenty of organisations aimed at helping women enter the legal profession such as the Women Lawyers Division, Young Women in Law, Women in the Law UK – just to name a few. My advice for young women entering the legal sector is do not be afraid – It can be achieved!