Despite practicing utmost caution when driving, there's still a high chance of being in a car accident and getting injured as a result thereof. Hence, it's extremely important to know what to do when you've been involved in a car crash. When you're aware of the steps to take, you can determine whether or not you should hire a lawyer to help you sort out the legal consequences. 
Below are some signs that you should seek the help of a legal professional if you've been involved in a car accident.
When The Car Accident Caused Severe Injuries
Typically, some auto collisions are life-altering because of the injuries the victims may sustain. That's why when you're injured, you should seek medical attention immediately to assess the extent of your injuries. Although serious injuries may not automatically appear right after the accident, submitting yourself to medical treatment can reduce the possible adverse effects of your wounds. If the injury is very serious, then the private MRI scan will be essential to provide the correct diagnosis and treatment.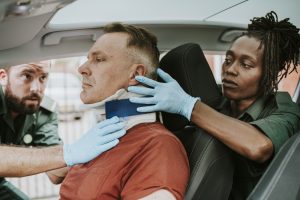 However, from the moment you realize that your injuries are severe, call a lawyer right away to know the legal options available to your circumstances. This is especially true if you've been seriously injured that your earning capacity will be affected for life, and you need long-term care to improve the quality of your life. 
When all these things happen, your lawyer can recommend the filing of a settlement claim against the insurance company or, when it fails, the filing of a personal injury lawsuit. Either way, you can receive compensation for the injuries you've suffered because of the accident. 
When You Need To Determine The True Value Of The Damages
You may never realize how damaging a car crash can be to your life. What seems to be a minor injury can be something that'll change your life forever. For example, if you've been injured in an accident in Louisville, KY, and the injuries have caused temporary or permanent disability, you should hire a car accident lawyer in Louisville, KY, who can help determine the true value of your damages. They'll perform a comprehensive review of your case and consider all possible effects in the computation of your damages. 
Generally, people who have sustained injuries in an accident may be entitled to damages, such as lost wages, lost earning capacity, medical costs, pain and suffering, and many more. Therefore, you should seek help from a legal professional to make sure that the amount of compensation you want to receive covers all the damages you've got because of the accident. 
When You Need To Negotiate With The Insurance Company
When you're injured as a result of a vehicular accident, your first line of defense is to file a settlement claim against the insurance company with the expectation that you'll get compensated fairly. Unfortunately, that expectation doesn't always happen in reality. Sometimes, insurance companies offer car accident victims low settlement amounts, which are only a portion of what they ought to recover. And, since you need to pay all your medical bills, you're in a vulnerable position to accept the offer and walk away. 
Thus, to avoid getting a lower settlement offer, work with a personal injury lawyer from start to finish. Your lawyer will represent you on your behalf and make sure to protect you against the dirty tactics of the insurance company. By letting them act in your capacity, they can put a stop to the insurer's act of pressuring you to accept lower compensation. 
Moreover, with them on your side, you can ensure that anything you say will not be used against you by the insurance company. Your lawyer also knows how to fight for your rights by negotiating for the amount of compensation you rightfully deserve. 
When There Are Several Parties Involved
Being in a car accident with more than two vehicles and persons involved can complicate the insurance claim settlement and lawsuit process. Therefore, if you've been in this kind of accident, call a dedicated personal injury lawyer right away to help you navigate your situation. Sometimes, when many parties are involved, proving the liability of the other party can become more difficult. They may shift the blame on you to block your chances of getting your compensation. 
To prevent this from happening, you should hire a lawyer. They'll analyze your situation and come up with a good defense strategy to keep your liability to other parties as low as possible. Also, instead of dealing with them by yourself, your legal counsel will communicate with the lawyers of the other parties to settle the issue. 
When You Need Help In Gathering Evidence
If you've been hurt in a car accident, the personal injury law requires you to determine who is at fault before you can qualify for compensation. However, determining and proving the liability of the other driver involved is never easy. You should gather some pieces of evidence to support your claim. 
For this reason, it's best to call an experienced lawyer to help you. For instance, they can quickly access your medical records, police reports, and other pertinent pieces of information that you may use for your case. Not only that, but they can tap their professional connections to ask for their opinions regarding your situation. 
When You Need To Meet A Deadline For The Filing Of Your Lawsuit
When the negotiation process with the insurance company has failed, the next legal remedy you can take advantage of is the filing of a personal injury lawsuit in court. However, you need to follow the procedural requirements before you can successfully file a lawsuit. These requirements can include the statute of limitations or the time within which you can bring your case to the court.
Under this requirement, missing the deadline for filing a lawsuit in your state can prevent you from fighting for your right to compensation in court. Due to this legal effect, you should talk to a lawyer to ensure that you don't miss any crucial deadlines. They know the statute of limitations applicable in your state; hence, they can guide you in the filing process and make sure you don't lose your right to recover compensation for the harm done to you. 
Final Thoughts
In reality, knowing when to call a lawyer after a car crash is somehow difficult because there are small, uncomplicated collisions that don't usually require legal assistance. However, by keeping these instances in mind, you can immediately contact a lawyer if you need one. And, if you encounter one or two situations mentioned above, hiring a car accident lawyer should be a top priority so you can get fair compensation for your damages.