Typically, employment laws are intended to safeguard workers from the wrongdoings of their employers. Without these statutes, they become vulnerable to a variety of threats that can jeopardize their right to earn a living. 
Just like other groups in society, working people should also be afforded workers' rights. These rights provide them with a voice in the workplace and, more importantly, protection to ensure that no one, especially the employer, can easily threaten or abuse them. 
If you've been working for someone else now, below are the things you should know about workers' rights.
1. Right Against Wrongful Termination
For most workers like you, getting fired is an undeniably stressful experience. However, it's much worse when the reasons for your terminations are illegal or based on invalid grounds. Sometimes, employers' resort to terrible ways when their employee refuses to engage in a conduct you're told to do. This is especially true if you have probable cause to believe that the conduct is in violation of the law. Because of this, you may be wrongfully terminated by your company without due process. 
Usually, wrongful termination of employment may occur due to the following reasons:
The employer wants to retaliate against an employee who filed a claim against them for discrimination and many more. 

The employer terminates an employee as a form of harassment.

The employer terminates an employee in violation of the employment contract, labor laws, and many more.
As you can see, employers can use various reasons to wrongfully get rid of an employee. Therefore, if you believe your termination isn't in accordance with labor laws, hire a dedicated attorney to help you file a wrongful termination claim. In doing so, you've the chance to recover damages from your employer.
2. Right Against Discrimination
Like other discrimination issues, workers also experience different forms of discrimination. It can be due to their age, citizenship status, disability, ethnic background, color, gender, religion, and many more. Generally, there are many ways an employer can discriminate a worker. These can be done by refusing someone to hire, denying training, failing to promote, paying less or being demoted, and harassing. When one of these situations happens, it's a sign of workplace discrimination that should be taken seriously.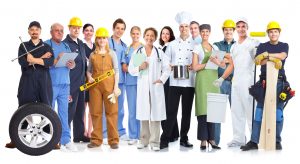 Fortunately, discrimination laws are passed to ensure that employees are protected against being discriminated by employers without a valid ground. For example, if you've been discriminated at work because of your disability, fight for your rights to work by reporting your case to the proper labor agency in your state. With the discrimination laws in place, any employer who violates either of these statutes can be penalized accordingly.  
3. Right to Work in A Safe Workplace
Although workplace accidents can occur anytime, it's essential to know that employees like you have the right to work in a safe workplace free from hazards. Generally, most states set workplace safety standards for employers to follow to ensure that all workers stay safe and healthy. 
For instance, workers have the right to the following:
Therefore, if you're an employee, make sure your employer maintains a safe workplace for their workforce. And in case of an accident on job where injuries are sustained as a result of your employer's negligence, you can exercise your workers' rights by filing a workers' compensation claim or a personal injury claim. Both options entitle you to the recovery of financial compensation for the injuries suffered. 
4. Right to Wages and Other Benefits
As a worker, your employer should pay for all the work hours you've rendered for the company. These include your minimum wage and overtime pay if applicable. However, you should note that most state laws regarding wages and overtime may vary from one state to another. Hence, you should find time to check your state laws before exercising your right to get paid with wages and overtime pay. 
Also, you have the right to receive your benefits from your employer. Ideally, for most workers, working for a company isn't just about the wages, but also about the benefits you receive because of your work as an employee. These benefits include disability leave, sick leave, family/medical leave, and many more. And just like the wages and overtime pay, the rules on benefits differ from one state to another. So, it's best to check your state laws first. 
And in any event, your employer violates the laws on wages, overtime pay, or statutory benefits, you've every right to file a labor case against them to obtain damages. This is one of the workers' rights you should know from the get-go. 
5. Bottom Line
Indeed, dealing with labor laws can be very complicated. Without knowing and understanding these things, you may not be able to protect your rights and interests as a worker. 
Thus, if you feel your employment rights have been violated, keep these points in mind and hire a trustworthy attorney to explain your legal options.