Workplace injuries are a common occurrence regardless of your field. Some believe that they are safer because they are working inside the office, but that's not the case. Workplace accidents are not limited to warehouses and field visits alone. Even while you are seated behind your office table, still, you can be at risk of being a victim if care is not taken. Hundreds of thousands of accidents are reported every year. If you take a keen look at these numbers, you'll find that most of them are reoccurring. Having said that, every business needs to have rules in place that will reduce the occurrence of these accidents within their premises.
Below is a list of the most common accidents in the workplace. When should you talk to a personal injury lawyer?  This post also aims to answer the question.
Muscle Strains
Muscle sprains and strains are some of the most common injuries in any workplace. Whether you are in an office or a warehouse, you can fall victim to muscle-related issues. Industrial workers, for instance, may tear their muscles while lifting objects. These don't necessarily have to be heavy items; you can still injure yourself if you don't use the right lifting strategies while dealing with lighter objects. Sitting down for long hours may also result in neck and back pains.
Impact Injuries
While working in the flow maintenance or production department, you are at risk of being hit by moving or falling objects. Forklift trucks, cars, or lorries are the main culprits in this category. As for falling objects, they could be from shelves, cupboards, or the roof. It is up to you as an employee to be cautious of how to store items. You should also be wary of your surroundings, especially when walking along truck lanes.
Cuts And Bruises
You probably have been a victim of these at least once in your workstation. You could be repairing a machine, and you accidentally move your finger over the sharp edges. The most common cause could be inadequate safety procedures or a lack of proper training. It is, therefore, the responsibility of both you and your boss to ensure your safety.
Inhalation Of Or Contact With Toxic Substances
If you are working at a manufacturing facility, you are at a high risk of coming into contact with chemical substances. Inhaling toxic fumes can have severe consequences on your respiratory system. Skin and eye irritation are also some of the effects that might come your way if you are not careful enough. The best preventive measures against such accidents include wearing protective equipment and following all rules to the letter.
Slips, Trips, Or Falls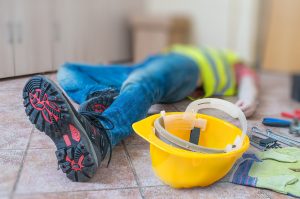 Another group of accidents of which nearly everyone has been a victim is slips, trips, or falls. It doesn't matter where you are working; you can always slip and fall, hence injuring yourself. It could be caused by a high elevation or just a slip while walking. Either way, things could get severe, depending on where your body falls. The only solution for this group of accidents is to always ensure that your work area is organized.
When You Should Talk To A Lawyer
If you are hurt while on duty, you can hire a personal injury lawyer. But, when is the right time to do so?  Not all situations require the help of an attorney. However, if there is a serious injury involved, then, that might be the time to seek the likes of Alvine Weidenaar's personal injury law help. You might think that you have enough evidence to back your claims, but the insurance company also has a team of lawyers also working on the case.
Truth be told, you'll always need to prove beyond doubt that the accident was not as a result of your negligence. Apart from suffering serious injuries, you'll also need a lawyer if it is unclear who is at fault. An attorney will help protect your rights and shield you from counterclaims that might be filed by the other party.
Some accidents may involve many parties, and this could be a complicated case. Therefore, to be sure of what your move should be, you'll need the help of a lawyer. Their skills and experience in the field will go a long way in leveraging your rights. So, assess your situation and compare it with the scenarios above before dialing your lawyer's number.
Bottom Line
There are many accidents in which you can be involved. Sometimes, it is difficult to determine who is at fault, and this could go against you in the court of law. Therefore, to avoid such consequences, it would be prudent to talk to a lawyer. However, not every accident requires an attorney. Assess the severity of the situation and make a wise decision.