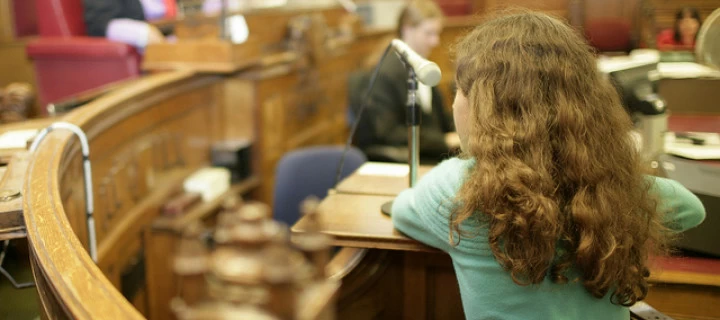 Student Pro Bono: the FRU
June 2, 2014
Selfies & the Law: Who really owns your face?
June 22, 2014
It is a statistical and historical fact that there are still few women at the top of the legal ladder, despite diversity within the legal area, albeit slowly, increasing. There are, however, a handful of incredible and undeniably inspiring women to both aspiring lawyers or women in general. Following women's success, fearlessness, determination and fervour to their work can inspire all who wish to pursue a legal career, but particularly my fellow female students. So pay these ladies your full attention and maybe take some notes…
Baroness Brenda Hale of Richmond (UK)
Born in 1945 in Yorkshire
Attended Girton College, Cambridge – Law. Gained a starred first and came top of the class
Professor of Law at the University of Manchester in 1986
Called to the Bar by Gray's Inn in 1969
Hale balanced her academic work and legal practise by working part-time
Became a QC in 1989
In 1984, became the youngest person ever to be appointed to the Law Commission
In 1999, became the second woman in history to be appointed to the Court of Appeal
In 2004, was the first woman to be appointed to the position of Lord of Appeal in Ordinary
In 2013, was appointed to the position of Deputy President of the Supreme Court of the United Kingdom
Baroness Hale is the current Deputy President and is therefore the most senior female judge in the UK and in history.
Hale has had an incredible legal, academic and judicial career. Like many of her colleagues she has been vocal about the lack of diversity, of all kinds, in the legal sector. She has also expressed her disappointment of the lack of female judges, particularly at the most senior levels.
'I do not think I am alone in thinking that diversity of many kinds on the bench is important for a great many reasons, but most of all because in a democracy which values everyone equally, and not just the privileged and the powerful, it is important that their rights and responsibilities should be decided by a judiciary which is more reflective of the society as a whole, and not just a very small section of it.'- Hale, BBC News
It is clear that Hale is aware and conscious of the future as well as of the important issues of the here and now, and how it will impact on the practise of law in the future. She is a woman with an undeniably illustrious and successful career. Her ability to take on multiple roles and continue to promote progress in the legal sector and ensure its accessibility to all who are passionate about it makes her particularly unique and special.
Baroness Helena Kennedy of the Shaws QC (UK)
Born in May 1950
Glasgow Barrister
Labour member of the House of Lords
Broadcaster (Radio 4)
Life Peerage in October 1997
Principal of Mansfield College, Oxford
Kennedy has been open in saying that her upbringing made a significant impact on her. From a working-class, Catholic and Socialist family, she was taught that it was what you did for others and, not material things, that were of measurable value.
At just 24, Kennedy set up her own chambers to work on sex-discrimination cases, domestic violence against women and to defend women who had killed or assaulted violent partners.
In 1990, she along with other human rights lawyers set up Doughty Street Chambers. The chambers worked on headline cases such as the Guildford Four and Michael Bettany spy trail.
She has penned two books, Just Law published in 2004 and Eve was Framed published in 1993. The latter was widely praised by critics for her observations and analysis of the view of women on both sides of the criminal justice system.
Above all Kennedy's achievements, her work for civil liberties and tireless promotion of human rights can be considered the greatest. Throughout her career she has fought to preserve and promote those freedoms. She recently visited the Middle East and observed some of the changes to human rights and civil liberties that are slowly growing in the region.
Kennedy is a member of the Human Rights Committee within Parliament which has been sitting since 2012. Although a Labour Peer, Kennedy has not been afraid to criticise the Labour party. She harshly criticised the Blair government's removal of legal rights and famously compared the then home secretary David Blunkett to Robert Mugabe.
She also set up the Helena Kennedy Foundation where Kennedy is President. The Foundation works in aid of disadvantaged students within the further and adult education sectors to provide financial bursaries, mentoring and support, enabling them to complete their studies in higher education.
Gareth Peirce (UK)
Born in 1940
Cheltenham Ladies' College
Oxford University
London School of Economics
Solicitor, admitted to the Roll of Solicitors in 1978
For a woman who is innately private and who shies away from the limelight, Peirce's name is synonymous with civil rights and she is considered the champion of the underdog. Peirce instead encourages the light to shine on the difficult and controversial topics her cases involve. She has adeptly avoided any public celebrity, yet her case history includes some of the greatest cases of miscarriages of justice, which have changed legal history in themselves.
Peirce has represented Judith Ward , a woman wrongfully convicted in 1974 of several IRA-related bombings. In the 1980s she represented the Guildford Four and the Birmingham Six, victims of the witch-hunt against Irish men during the height of the Troubles. She also represented the family of Jean Charles de Menezes, who was shot dead at Stockwell tube station in a bungled terrorism raid, and Moazzam Begg, who was detained in Guantánamo Bay. She was appointed CBE in 1999 for services to justice, but later wrote to Downing Street asking for it to be withdrawn.
Peirce is furiously dedicated and protective of her clients, building a unique bond and level of trust with them. Sacrificing numerous hours in the day and even on holidays to work and visit them in prison, she considers her clients as part of, and just as important as, her family.
Peirce is a true example of a modern lawyer. Her cases may be famous, the issues may be big, controversial and convoluted, so it should be easy to say that she is just as famous; however, it is the praise of her clients rather than the media, public or her peers that she strives for. Peirce doesn't care if you don't know her name, she considers it unimportant. It is the issues and causes she addresses that she wants talked about and for herself to remain invisible.
The Honourable Louise Arbour (International)
Born in February 1947 in Montreal, Quebec, Canada
University of Montreal, Law Degree (Distinction)
Professor of Law at Osgoode Hall, York University
Vice-President of Canadian Civil Liberties Association
Judge of the Supreme Court of Ontario 1987-90
From 1996, Arbour had an increasing international presence. She set out to build a law enforcement agency for Human Rights. She secured the first conviction for genocide, against Rwanda, since the 1948 Genocide Convention and the first indictment for war-crimes by a sitting European Head of State, against the Serbian President Slobodan Milosevic. Arbour battled border guards to investigate massacres and has taken on state leaders over human rights abuses.
Arbour was appointed to the Supreme Court of Canada in 1999. When she retired from that role, she was appointed High Commissioner for Human Rights at the United Nations from 2004-2008. She took a tough stance on countries such as Zimbabwe, China and Israel and even confronted the Bush administration over the Iraq war, the death penalty and US efforts against terrorism. Amnesty International and other similar groups were impressed with her refusal to be silenced.
Arbour currently heads the International Crisis Group, which continues to monitor and research conflicts once worldwide interest has fade.
Sonia Sotomayor (US)
Born in June 1954 in The Bronx, New York
Princeton University- Graduated Summa cum laude 'with greatest honour' 
Yale Law School
Sotomayor is the daughter of Puerto Rican native parents.
Her mother was later widowed when Sotomayor was nine, and she grew up in the New York housing projects. Her father was an alcoholic and her mother was emotionally distant so Sotomayor was much closer to her grandmother.
Associate Justice of United States Supreme Court, elected in 2009 by President Obama
Sotomayor was the first Hispanic and third woman to serve in the Supreme Court.
Prior to her promotion to the US Supreme Court, Sotomayor is described to have saved Major League Baseball in her strike-ending decision in Silverman v Major League Baseball Player Relations Committee, Inc 516 F.Supp. 588 (1981). Also notable is her ruling in Castle Rock Entertainment, Inc. v Carol Publishing Group 150 F.3 d 132 (2nd Cir 1998), where she found a copyright infringement on material from the television show Seinfeld. The case has become a standard for applying the fair use doctrine in the US.
Sotomayor has been described as 'not a push over' who 'stood up to judges, when appropriate' as a young practising lawyer with tenacity and diligence by the bucket load.
As a judge she has been said to give her undivided attention to the proper disposition of all of the cases in her court and has a stiff view of justice. Sotomayor can be considered inspirational for her success and especially her climb from austerity to great legal prowess.
Conclusion
The five women above are undeniably amazing. They are from all over the world and are players on the international stage. These women are no shrinking violets; they are fiery, passionate, out-spoken, resilient and dedicated to their work. Even if you are not considering a career in the law, these women are still inspirational in their own individual and unique way. They definitely inspire me.