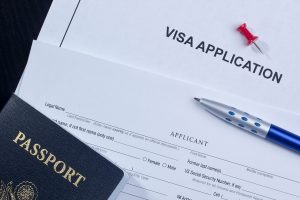 2 Things You Need To Know About The Country's Immigration Laws
The United States has a strict set of immigration laws that dictate when and how people are allowed to immigrate to the country. These laws, as with any laws, can be difficult to navigate for those without a background in immigration law, which in turn makes it difficult for people to get the visas that they need for themselves or for family.
If you or a loved one is looking to immigrate to the U.S., here are a couple of things that you should know about these immigration laws.
Crime Convictions Lower Your Odds Significantly
One thing that you need to know about the immigration laws is that the U.S. government isn't likely to grant any visa to anyone that has been convicted of a felony or crime. A criminal record also inhibits your ability to find work, even for natural-born citizens of the U.S. However, having a criminal record doesn't mean it's impossible for you to immigrate to the United States.
Fortunately, there are ways that can help you appeal decisions about your inadmissibility to come or remain in the United States. If you're in Florida, you can call the immigration lawyers at Florida Immigration Law Counsel to assist you with the paperwork and make sure your rights and interests are protected, and there are similar resources in other states as well. With them on your side, you may have a better chance of reversing your status as inadmissible under the immigration laws.
The Immigrant Visa Application Process Can Be Complicated
Even without concerns regarding a criminal record, there are a number of other important factors that can help you decide if you're eligible for an immigrant visa, including the cost of the application process and the eligibility requirements. While there may be some truth to claims of many people that there are loopholes in the immigration laws regarding family reunification, many of these individuals have either been unable to submit their forms for review to the proper authorities or have simply been unable to complete the form at all. If you're unable to do either one of these things, then it's unlikely that you're eligible to apply for an immigrant visa.
Before you rush off to file your paperwork, you should review the necessary documents that you'll need to submit when filing an immigrant visa application. There are three separate sets of U.S. immigration laws that pertain to the immigration of skilled workers and family members. Each of these three categories has their own unique set of requirements for filing an immigrant visa.
Skilled Workers – In the case of skilled workers, for example, U.S. immigration law requires that you must meet certain qualifications before being able to apply for an immigrant visa. You must be over the age of eighteen years old, demonstrate two or more years of experience in your field, performing work that is lacking qualified American workers, and have a job offer from an employer, as well as the consent of a sponsor, in order to legally immigrate to the United States.
Family Members – The family category requires spouses or parents of American citizens, legal immigrants, or naturalized citizens to accompany the applicant. There are also special programs for unmarried sons and daughters of U.S. citizens and green card holders who intend to live here permanently. It's important for the family to show that they have enough funds to sustain them in the United States and that they have a strong sense of community ties. Just like the K.'s immigration laws on children, the country also gives an opportunity for unmarried children to move and live with their parents in the U.S. Once the green card has been issued, the family members can then move to live with their child in the U.S. if they wish to.
After you've completed your paperwork and you meet the eligibility requirements for any of these categories, it's then time to learn what the costs of your application will be. The fee for an immigrant visa is $220 USD, which you will have to pay as part of the application process.
Conclusion
Again, the U.S. immigration laws are very strict when it comes to the processing of your application. This is a very serious matter, as the whole process depends on the type of visa that you'll apply for. Therefore, you should keep this article in mind to come up with the best immigration tips and get the help from an immigration lawyer before you start the application process.