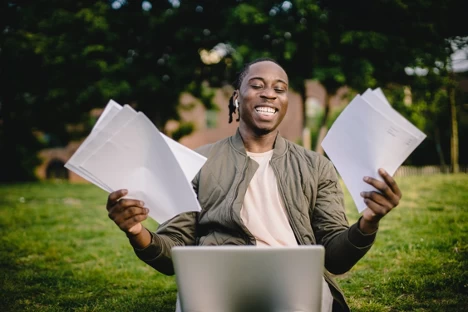 Writing a legal assignment is a daunting task especially for students who do not possess the skills needed to create a good piece. To write a good law essay, you need to have a legal background that will enable you to conduct your analysis with ease.
A student has to demonstrate his or her ability to analyze a legal topic and describe it in a simple, logical, and clear way. Like other essays, your opinion will rely on facts. Writing and completing a law essay is simple especially for students in law university. All you have to do is follow the tips that we are going to discuss today.
Defining a law essay
Laws are rules that are enforced by government authorities to maintain order. Law essays are papers written by students to analyze different aspects of the law and provide different views and opinions on the subject. These views also describe the strength and weaknesses of a particular legal topic.
1.    Starting a law essay
How do you start writing a law assignment? You start by identifying a great topic that will act as the foundation of your essay. After identifying a good topic, you explore the question in your subject area. The subject area will help you in understanding the issues that you need to address. Your professor expects you to provide good answers in the body section.
Another important part of a law essay is the title. You need to create a captivating and compelling title that will get readers interested in reading the piece. Start by coming up with a captivating intro that creates the desired impression. Your opening remarks should indicate what the reader should expect to find in your paper.
2.    Finding a good topic
Since most legal papers focus on legal analysis, you'll need to do your research in your area of study. You'll be in a comfortable position to write your essay after you've familiarized yourself with the topic. Don't forget to list your information sources since they'll be required at the end of your essay. For your insights or arguments to be effective, you'll need to present them in a structured approach.
3.    Create an outline
Without a good outline, you don't have the assurance that you'll get your desired results. To create an outline, you'll need to come up with a draft that includes all the main arguments and ideas that you'll include in your copy. A structured blueprint gives you a reference point that helps you formulate and turn ideas into words. With an outline, you'll easily focus on the topic at hand and the main topics.
4.    Include all the sections
Just like any other essay, a law essay is made up of three sections namely the intro, body, and conclusion. The intro consists of one paragraph that finalizes with a thesis statement. The body includes around three or four paragraphs that elaborate on the theme and arguments. The conclusion summarizes the essay.
1.     The Introduction
The introduction part introduces the reader to the subject at hand by summarizing the arguments of the essay. It is an opportunity to get the attention of the audience by focusing on the value of the topic. The introduction ends with a thesis statement that justifies the objectives of the essay.
2.     The body
The body is a key element of the essay. It allows you to state your main arguments that support your thesis statement. Do not be afraid of giving counter-arguments on the issues that you are supporting. However, your claims have to be supported by reliable sources of information.
The opinions that you include in your essay should indicate a clear understanding of the subject matter. The body part needs to challenge and persuade readers to adopt your thoughts. If you'll be tackling different elements, it's important to divide your body into sub-headings.
3.     The conclusion
The conclusion summarizes your point of view by restating your thesis statement. Your body needs to address all the critical questions for you to be in a position to conclude with a comprehensive answer. Never introduce a new idea in the conclusion. You also need to be objective in your final remarks especially when describing your personal view.
To conclude
Before we conclude this article, we've decided to share a few critical tips on certain aspects of your essay that deserve your attention. You need to:
Present your paper in a neat and organized way
Use coherent and effective structures when labeling your subheadings
Demonstrate your ability to apply the law using your arguments
Develop systematic and logical arguments
Writing a law essay shouldn't be difficult with the tips that we've discussed here. The most important thing when writing such essays is creativity. You need to prepared to think outside the box. After writing your essay, remember to proofread at least three times before submitting it.